Regular price
Sale price
$29.95 USD
Unit price
per
Sale
Sold out
Share
Description

QuikCure Natural Healing Cream is a powerful all-in-one skin treatment system in a jar. The patented active ingredients provide antiseptic, anti-inflammatory and anti-itching properties. These ingredients are known for their immediate and long lasting relief of symptoms associated with skin troubles. Daily use helps maintain healthy skin and prevents flare-ups. Supports your skin's natural healing process*.

STOP ITCHING, START HEALING!

Many of our customers have reported relief of symptoms from cuts, burns, bedsores, diabetic ulcers, hives, sunburn, eczema, psoriasis, herpes, pityriasis rosea and other skin problems. Immediate results from the first application!

Safe... Effective... 100 % Pure Natural & Organic...Safe for your entire family!

Great for Pets, too!

QuikCure Natural Healing Cream is free of petrochemicals, pesticides, herbicides, irradiation, artificial colors or perfumes, hormones, GMO's or other harmful chemicals. Made in USA with organic and fair trade ingredients.
Ingredients

INGREDIENTS: Organic Aloe Vera Juice, Organic Shea Butter, Organic Coconut Oil, Organic Tamanu Oil, Sea Buckthorn Oil, Organic Rosehip Oil, Olive Squalane, Organic Glycerine, Xanthan Gum, Zinc, Olive Extract, d-Panthenol, Organic Calundula, Licorice Root Extract, Vitamin E, Organic Oats Extract, Organic Gotu Kola Extract, Colloidal Silver, Organic Wild Yam Extract, Natural Preservative. EO Blend.

Ingredient Information
Organic Tamanu- has anti-bacterial, antibiotic, antioxidant and antiinflammatory properties that help in healing wounds, rashes, irritation, acne, acne scars, diabetic sores, burns, herpes sores, cuts, eczema and psoriasis.

Organic Rosehip- antioxidant-rich oil that reduces scar tissue, hyperpigmentation.

Organic Sea Buckthorn- provides over 100 nutrients. Traditionally used for dry
skin, damaged skin, scars, eczema, burns.

Antioxidant Proprietary Blend Noni, Pine Bark, Olive Extracts, Pomegranate exhibit very potent antioxidant, anti-inflammatory effects.

AminoSil Complex® Vitamin Mineral Rich Blend - Colloidal Silver, Zinc, L-Lysine, d-Panthenol, Beta Carotene.

Colloidal Silver- Colloidal silver is known for its powerful anti-bacterial, antifungal, anti-viral properties. It is also a strong anti-septic germ fighter.

Zinc- Mineral that the body needs for the synthesis of collagen, which is a requirement for the healing of skin wounds. It helps sooth and heal the skin
from itching, rashes, irritation, eczema, psoriasis.

L-Lysine- Studies indicate it is effective against herpes, cold sores and canker sores.

d-Panthenol- Soothes irritated skin and aids in wound healing. Prevents irritation, aids in tissue repair.

7 Medical herbal extracts with Liposome Technology,
Licorice, Ginko Biloba, Wild
Yam, Barberry, Calaguala, Pine Bark, Aloe, Gotu kola known for their Anti-Inflammation, Anti-Oxidation, Anti-allergic, Immuno-Modulation properties.

Essential Oil Blend- Melissa, Oregano, Tea Tree, Ravensara, Lavender.

Lemon Balm- (Melissa Officinalis)
Used in Europe to treat cold sores and herpes simplex virus. The polyphenol in Lemon Balm make it an effective antiviral treatment and a first line treatment for herpes outbreaks.

Organic Oregano Oil- Cornell University research found oregano oil killed 30
different germs and it helped to destroy the viruses that cause shingles, HSV and HSV-2." …has been proven useful as an antiviral…rivaling pharmaceutical
antibiotics … in eliminating microbes … without inducing production of drug resistant
strains.

Organic Tea Tree Oil- Used for thousands of years in Australia as a first aid to treat cuts, wounds, and skin infections. Has strong anti-viral, anti-fungal, antiseptic and antibacterial functions.
How to use

Shower using a gentle, organic cleanser (no harsh soaps). Pat dry with a clean towel. Apply QuikCure Natural Healing Cream to all affected areas as necessary.
View full details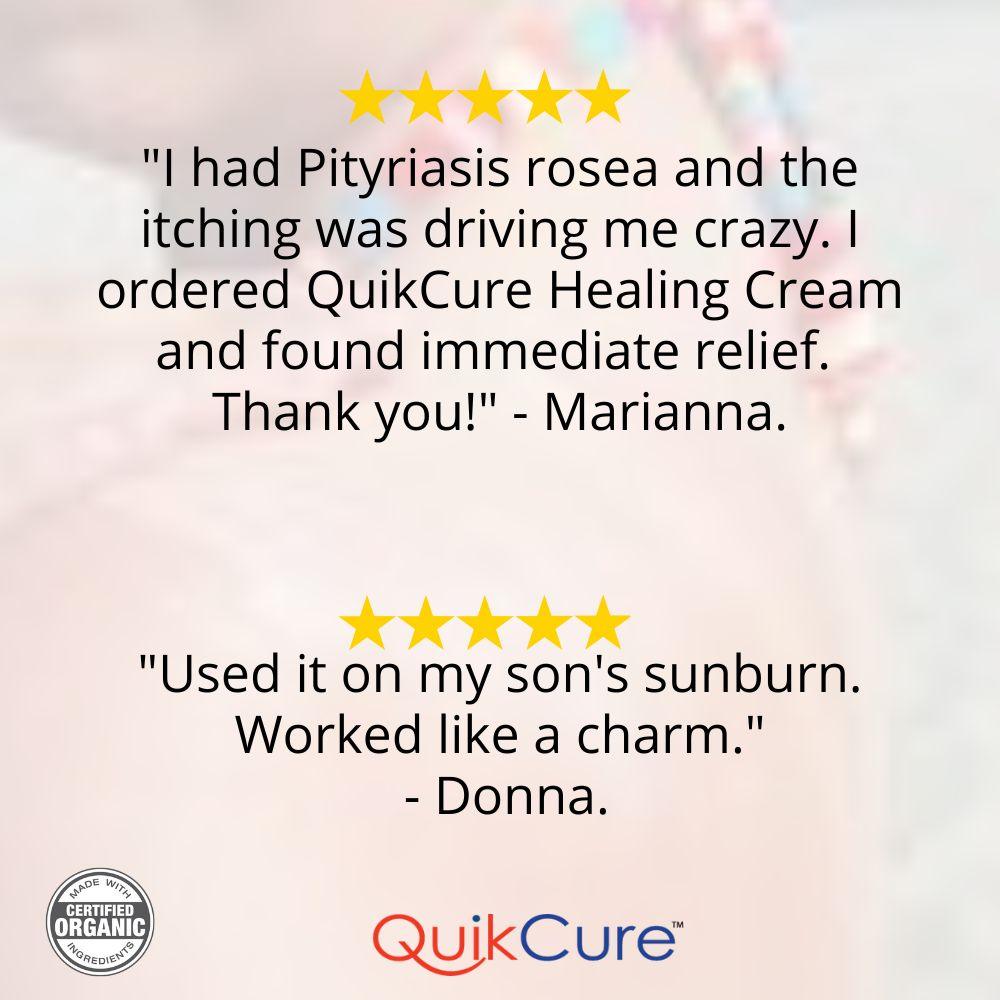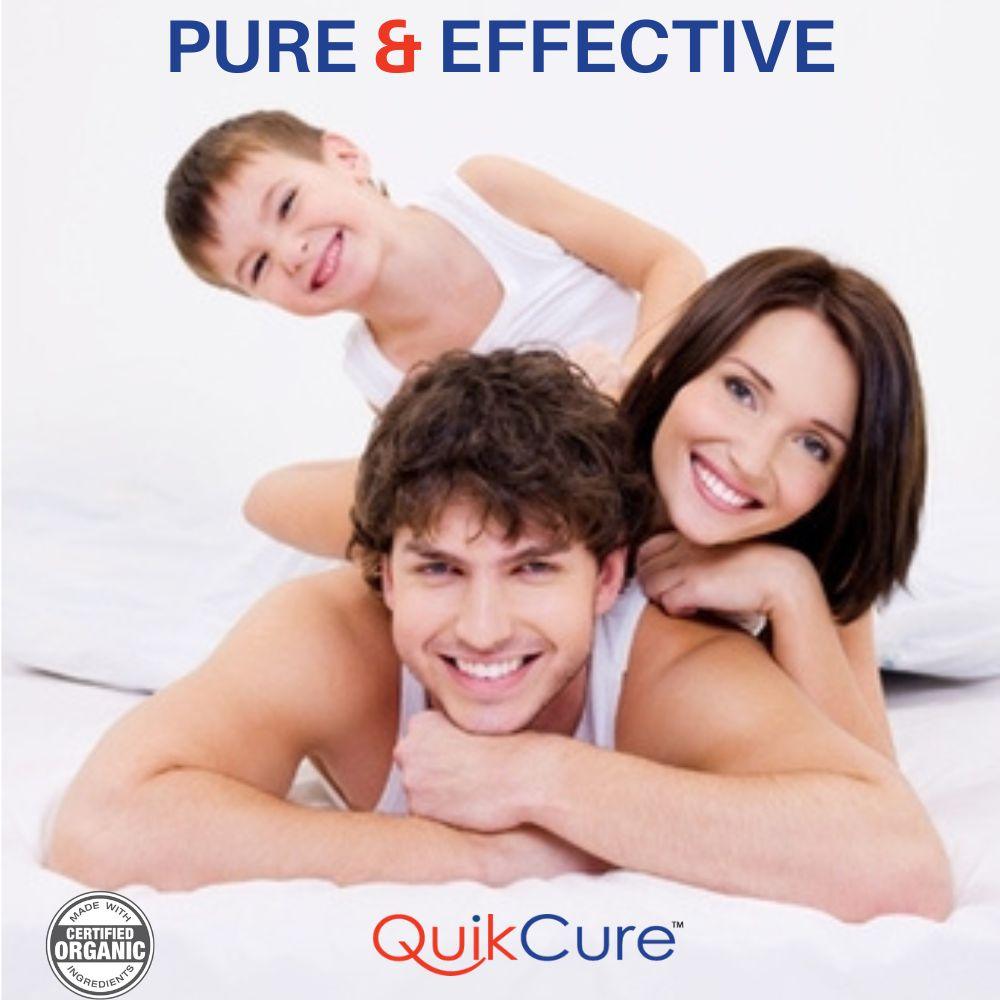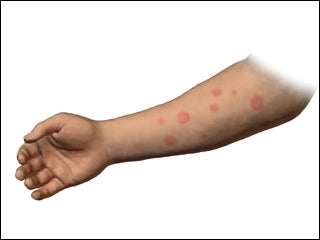 NO MORE ITCHING.

NO MORE BURNING.

NO MORE PAIN.

NO MORE REDNESS.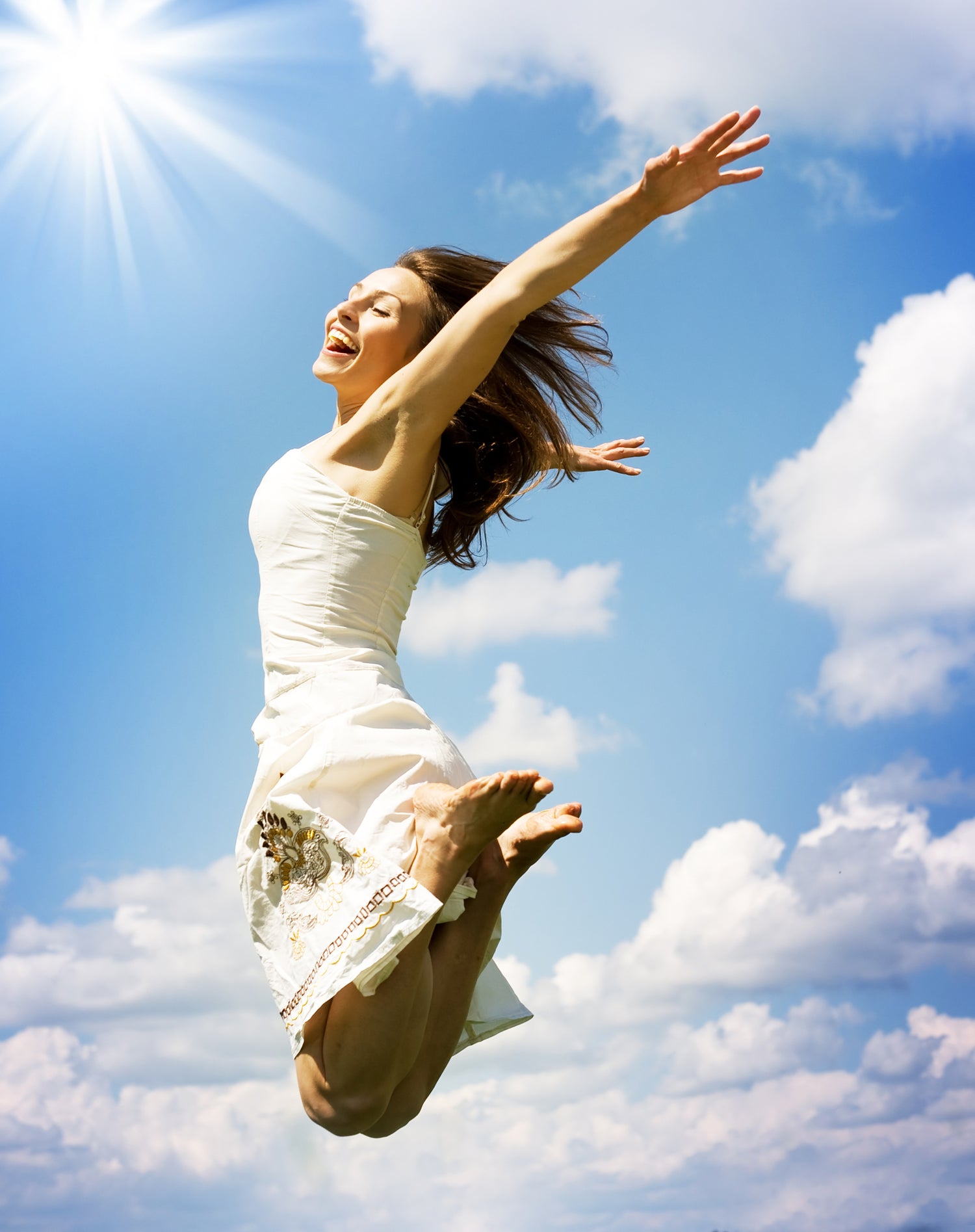 QuikCure Testimony from Hippocrates Health Institute. Watch Now.