Regular price
Sale price
$49.00 USD
Unit price
per
Sale
Sold out
Share
Description

NoLines Organic Face Serum is super concentrated with patented technologies designed to address the most visible signs of aging, like: fine lines and wrinkles, expression lines, sagging skin, loss of elasticity, dullness. This amazing serum rapidly and effectively revitalizes your skin with incredible anti-aging ingredients for instant and cumulative results. Clinically proven to increase the collagen production and minimize the appearance of fine lines and wrinkles. Infused with organic antioxidants, vitamins, organic herbs, natural peptides, EFA, Hyaluronic Acid, and PCA to protect your skin against free radicals and improve the overall health of your skin.


Specially formulated with high and low molecular weight Hyaluronic Acid to maximally hydrate superficial layers of your skin as well as the lower layers of your epidermis.

Give your skin a bright, luminous glow revealing smooth, youthful-looking skin while giving your skin a rejuvenating boost. Made in USA with organic and fair trade ingredients.
Ingredients

Organic Aloe Vera Juice, Organic Grapeseed Oil, Organic Rosehip Oil, Organic Inca Inchi Oil, Organic Borage Oil, Organic Squalane, Organic Shea Butter, Organic Coconut Oil, Food Grade Emulsifier, Organic Glycerin, Xanthan Gum, Rose Extract, Resveratrol, Acmellia Exract, Acai Berry, Amla, CoQ10, LMW Hyaluronic Acid, HMW Hyaluronic Acid, Green Tea, Beta Glucan, Organic Oat Extract, Alpha Bisolobol, Licorice Extract, d-Panthenol, Vitamins C and E, Beech Tree Extract, Natural Preservative, EO Blend.

KEY INGREDIENTS


RESVERATROL Guards your skin from Free Radical damage and environmental abuse (sun, smoke, pollution, wind, smog).

ACMELLA OLEARACEA EXTRACT Natural peptides for "Botox"- like activity.

BETA GLUCAN Stimulates collagen formation. Decreases the depth of wrinkles.

BEECH TREE EXTRACT (Symbol of Youth) Anti-aging effect, reduces the appearance of fine lines and wrinkles.

HYALURONIC ACID (Multiple forms) Plumps, supples and revitalizes your skin to full radiance.

VITAMINS & ANTIOXIDANTS (Organic Green Tea, Organic Pine Bark, Curcumine, Organic Pomegranate, Organic Açai, Organic White Tea, Organic Amla, Organic Olive Extract, Vitamins E, A, C, CoQ10, B5) Provides energy boost to the skin and adds anti-inflammatory support.

ORGANIC ALGAE BLEND (Organic Spirulina, Organic Chlorella, Organic Sea Fennel) Packed with super marine nutrients to nourish and hydrate.

CEREMIDES, OILS & OMEGAS (Organic Argan Oil, Organic Sacha Inchi, Organic Rose Hip Oil, Organic Borage Oil, Olive Squalane) Keeps skin supple, nourished, especially when skin is dry or chapped.

BAKUCHIOL Retonol-like botanical to even skin tone and smooth skin.

PLUS 25 ORGANIC EXTRACTS Improve micro-circulation, reduces puffiness and gently evens out skin tone.
How to use

Cleanse face, pat dry. Apply gently to face avoiding your eye area. For best results, apply morning and evening and before special occasions.
View full details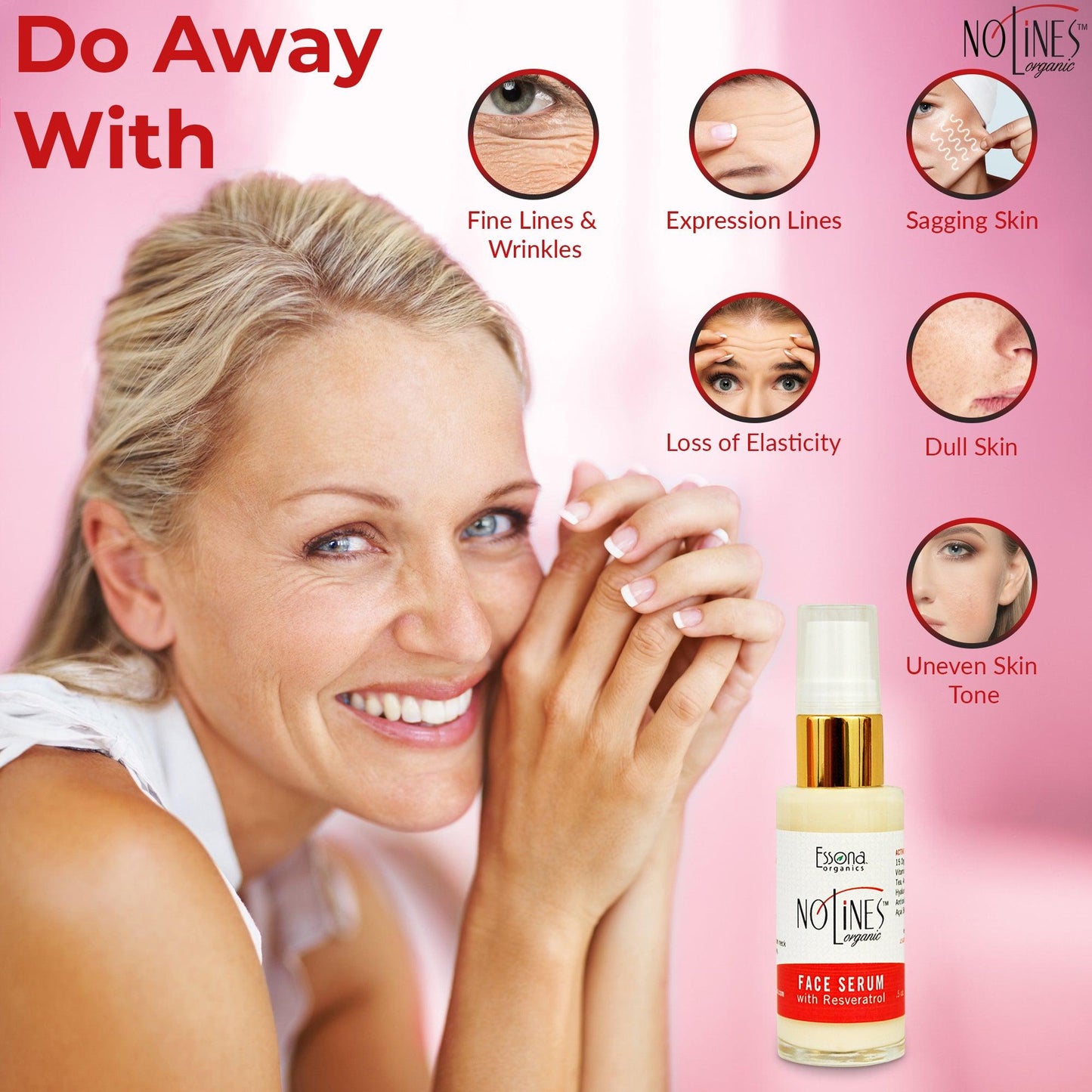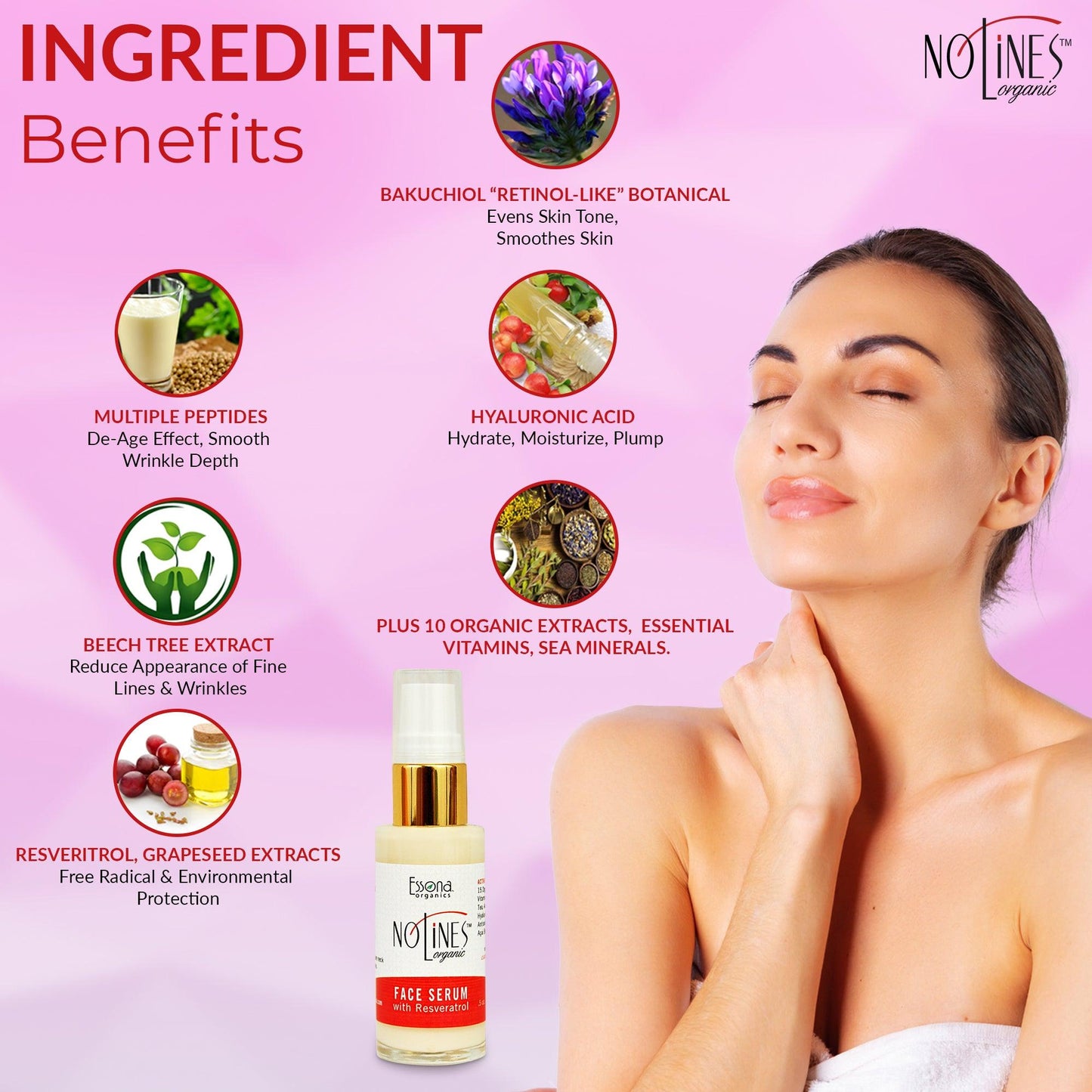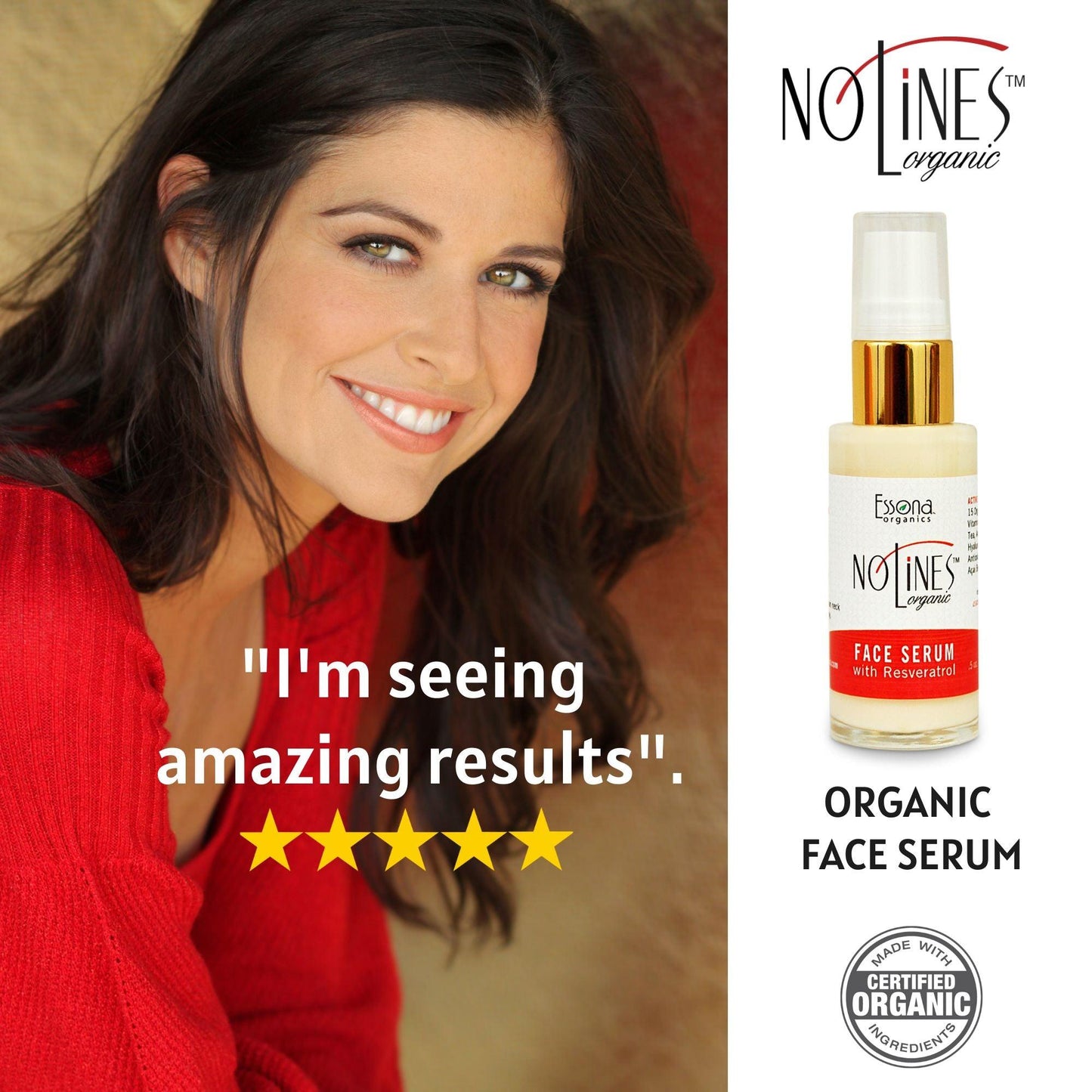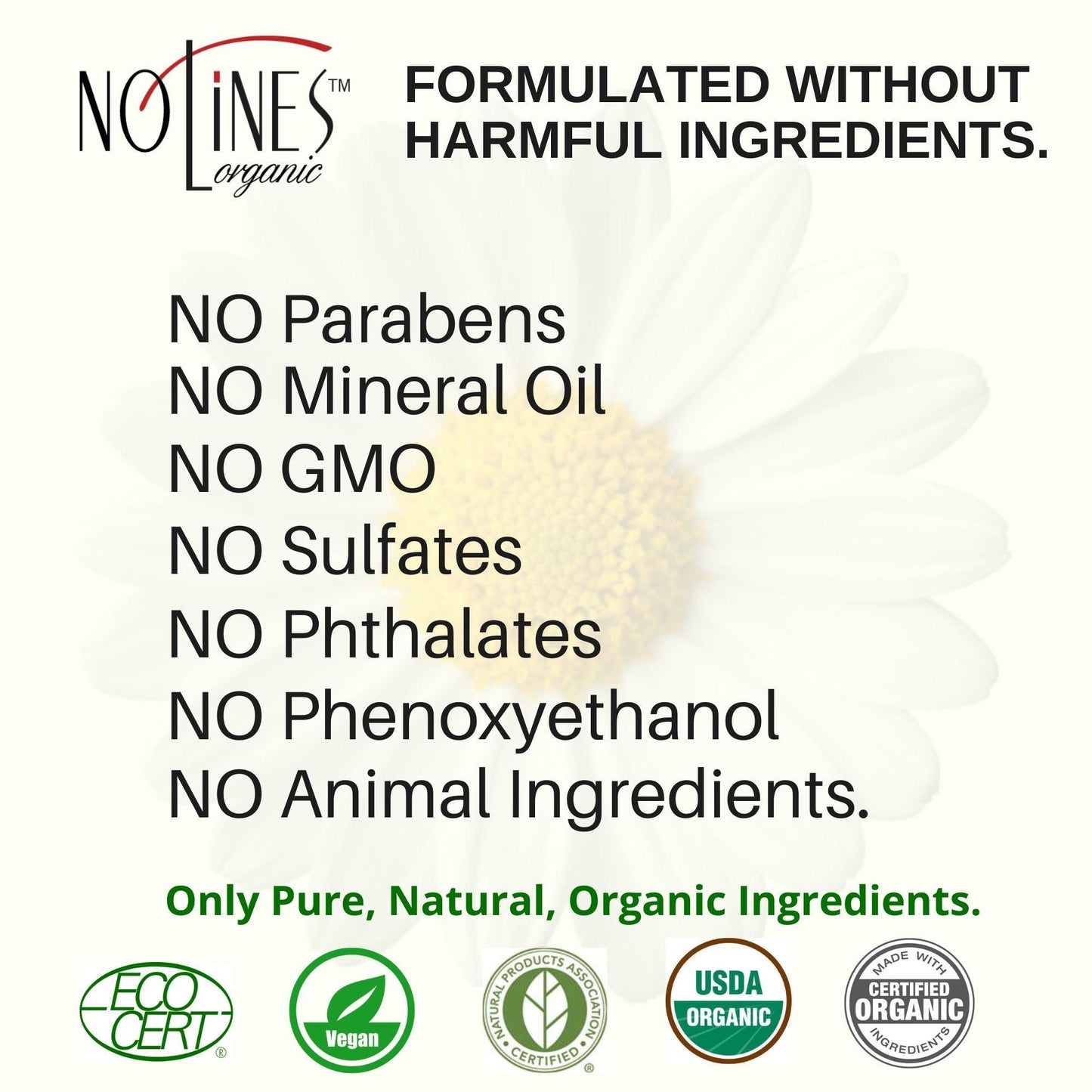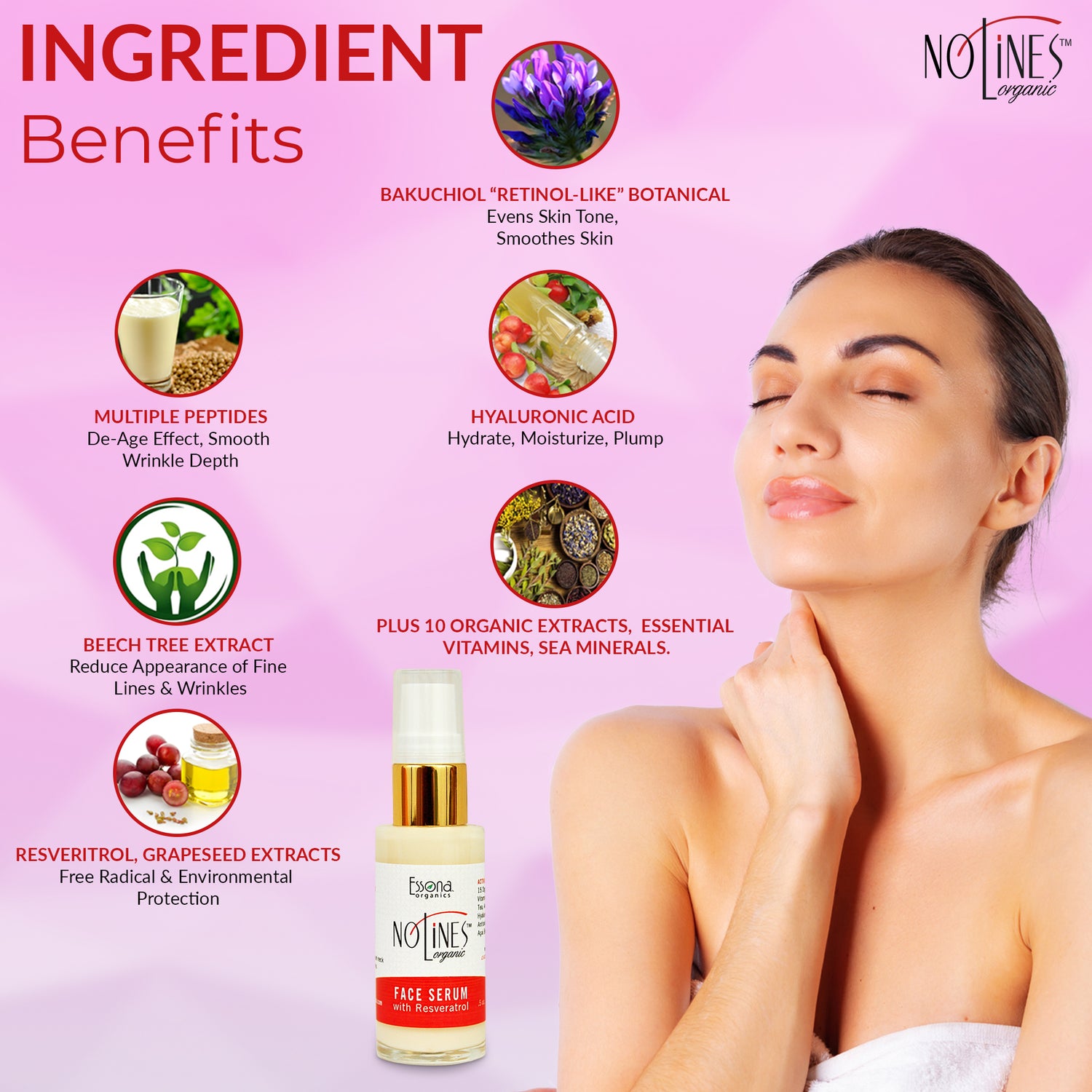 Powerful Ingredients, Proven Results.
Incredible Anti-aging Benefits.
Lift, Brighten, Plump, Quench. Diminish Fine Lines & Wrinkles. Protect aganst free radical damage and environmental elements.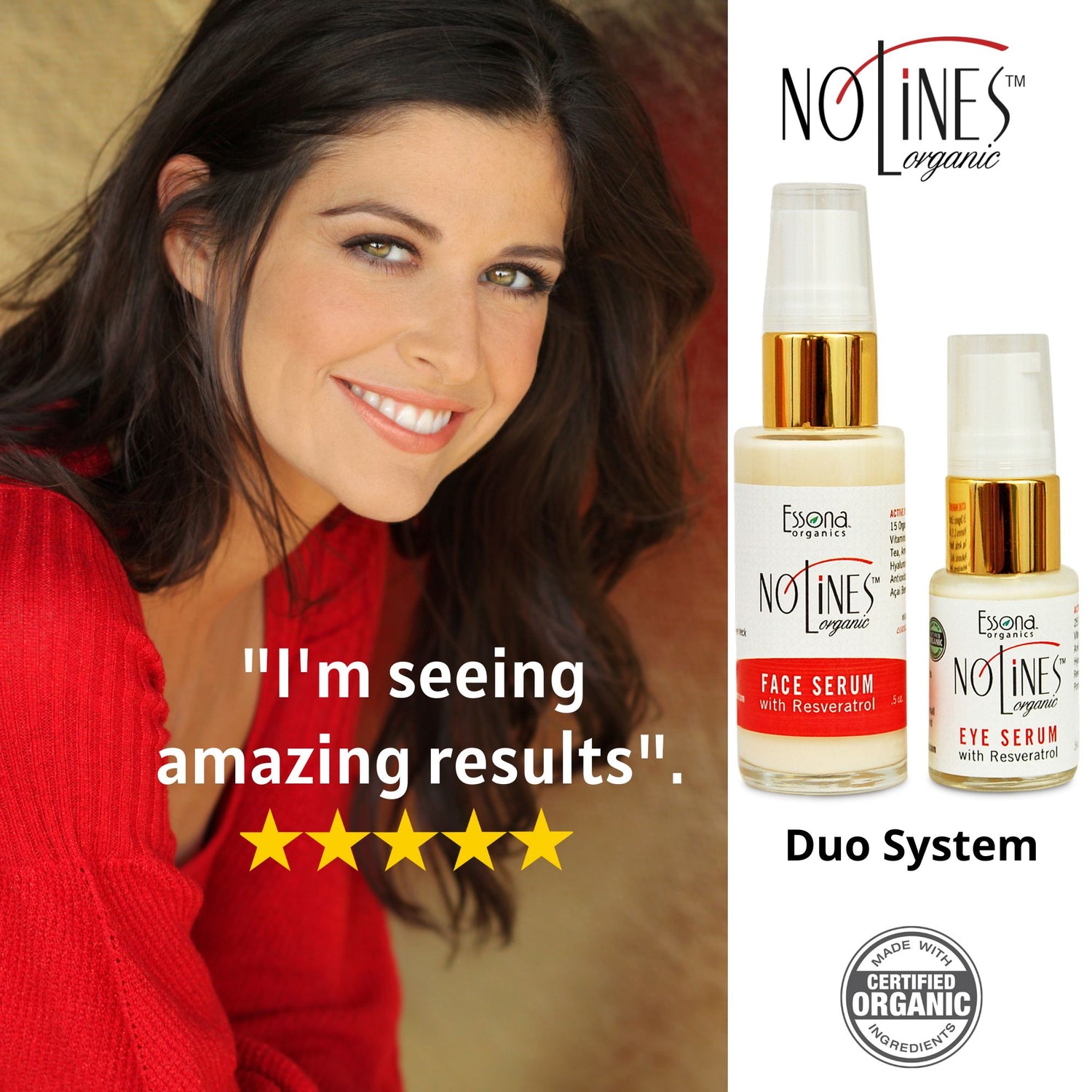 You Can See it... You Can Feel it... Others Will Notice the Difference.
Try the NoLines Organic Duo System that includes NoLines Organic Face Serum & NoLines Organic Eye Serum.
See Duo System